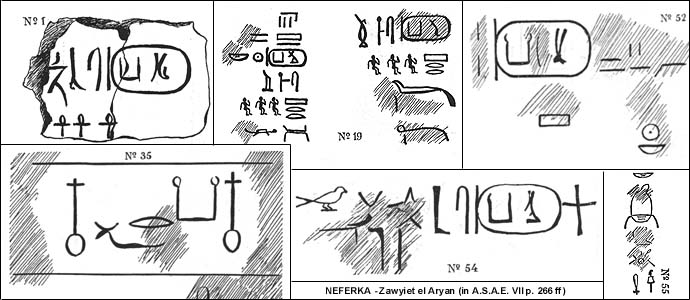 We have to remark that a large part of the -nonetheless precious and brilliant- study of Nabil Swelim on the Third Dynasty (op.cit. chap.3) was aimed to deny Lauer's datation of the Zawyiet el Aryan Unfinished pyramid to the fourth dynasty. The monument that the egyptian author ascribes to the IIIrd dynasty is made object of a detailed analysis which often invalidates the points which J.P. Lauer had taken as indicators of a IVth dynasty date.
It is hard to resume 55 pages of text but the summary by the same author (op. cit. p.175-6) can be here cited:
Djedefra's Abu Roash pyramid and Nebkara's at Zawyiet el Aryan have similar substructures; this because the former IVth dyn. king intended to copy IIIrd dyn. substructures; the complex around Zawyiet unfinished pyramid had no structure typical of the IVth dynasty complexes, but an enclosure wall (IIIrd dyn. characteristic) seems that would have been accomplished.
Extensive use of granite, a material already used from the thinite period, was responsible for the delay in construction: this led the followers to use limestone until a perfect mastery of masonry had been reached (Khwfw). The blocks size and weight is not out of the IIIrd dynasty builders' possibilities: at Meydum (Mastaba 17, dating to the end of IIIrd dyn.), larger blocks were used.
The sunken sarcophagus was in a transitional phase and even at the time of Djedefra and Khaefra not all the sarcophagi were sunken (Khwfw's,or Menkaura's main one that was sunken but at sea- with the ship that was bringing it to the British Museum).
Finally the mortar used, which Lauer thought to be of a precisely burnt quality, wasn't unknown before Snofrw as stated by the french scholar for an identical quality was recovered from the famous alabaster sarcophagus of IIIrd dyn. king Sekhemhet.
Therefore NEFERKA would have been a successor of NEBKARA and predecessor of HUNI.
Swelim also advanced that the Layer Pyramid of Zawyiet el Aryan was built by Neferka and the stone bowls of Khaba found in Z-500, north of the layer pyramid, could have been gifts or gathered antiquities like those from dynasty I found in the Step Pyramid complex.
Other hypotheses on these ephemeral kings' names are in Kaplony (R.A.R. I, 1977 p. 146-155; cfr. table in my Third dyn. page) who (op. cit., 154) proposes to identify Horus Za with njswt-bity Wr-Za-Khnwm (IAF I, 380, 468, 611) as Djoser's father and predecessor (interregnum of 2 years and 23 days); Horus Nekhet-za (Sanakht) with Hor Tehenwy Nwb (IAF III, n. 806) and njswt-bity
Nebka (Ra)
, follower of Sekhemkhet and predecessor of
Khaba - Netjer Nwb -
njswt-bity
Shenaka
(Zawiyet el Aryan inscr.); finally the last (6th) king of the dynasaty would be Horus Neb Hedjet = Zawiyet el Aryan's
Neb Hedjet Nwb
who would be njswt-bity H(w) (
Huni
). P. Kaplony (op.cit.) pointed out that
hwdjefa
may reflect the same king-lists compilers' indecision in interpreting the name ?-ka.