The already mentioned inventory-scribe ivory plaque from his mortuary complex clearly shows on the right Sekhemhet's nebty name Djosert(y) (published in Goneim 1957 pl. 66), even if it has been argued that this could be a Queen's name.
W. Helck (in W.K.Z.M. 57, 1957 p. 72-6) supported by a study of Schott (cfr. Lauer's article on the plaque in B.I.F.A.O. 61, 1962 p. 25-8) had deduced that no Nebty name existed before Snofru, and the name Djosert-Nebty could have been that of a queen; Lauer adduced the examples of the use of Nebty in the titulary of Semerkhet (Irj-Netjer), Qa'a (Sen) and Ninetjer (=).
My learned friend John D. Degreef once expressed his doubt about the Nebty as title too; but he proposed that this could have been the object of the king-name's sentence, i.e. Sen-Nebty, with hieroglyphical honorifical inversion, would be 'He who sniffs (or he who Kisses) the two ladies'. He also indicated me that a similar name appears on one of the beer jars found at Elephantine (published in FS Fecht, 1987 by the same W. Helck): perhaps in the reign of Huni an eponymous event names the Wrt Hts queen Djefat(.i) Nebty. Helck didn't returned in the 1987 article on the question of the archaic value of Nebty.
It's possible that a double use was made of 'Nebty' (as for the kings' cartouche-names of later O.K. person- names): as royal title as well as in private names like a kind of teophorous element.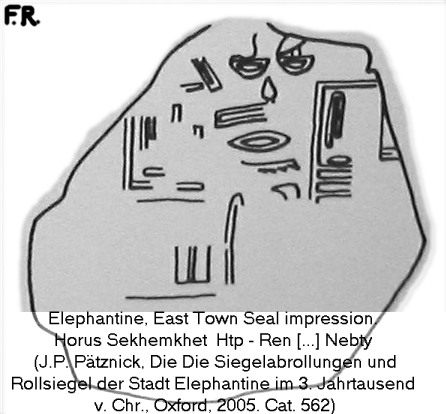 [
Update 2007
] A new important element in the problem and more generally about the sequence of early Third Dynasty has emerged after J.-P- Pätznick studies of Elephantine sealings (cf. Jean Pierre Pätznick, Die Siegelabrollungen und Rollsiegel der Stadt Elephantine im 3. Jahrtausend v. Chr., Oxford, 2005. - Exkursus I: Die Abfolge der Horusnamen der 3. Dynastie, p. 76-79). A seal impression from Elephantine East Town (ibid, p. 76ff., note 801; p. 567, cat. 562) preserves part of the
"Nebty name"
of Sekhemkhet:
HTP-ReN [...] Nebty
. Now there is already a possible Nebty name of this king, which was found in his Saqqara unfinished monument, on the linen tablet discussed and shown above. A series of considerations, not last the ones about the furnishing and sealing in Sekhemkhet's pyramid, leads Pätznick to propose that this pyramid could have been started in the reign of the king whose "Nebty name" was preserved on the plaque (
Djeserty Ankh Nebty
) and whose Horus Name would be probably
Sanakht
. Sekhemkhet's impressions should have to be related to the posthumous expression of a kind of filial pity (as was the case with Sanakht's sealed vases deposit in Djoser's funerary temple of the SPC and of the latter king with Khasekhemwy's Abydos tomb); this would also indicate a likely direct family relationship of Netjerykhet, Sanakht and Sekhemkhet. The Wadi Maghara reliefs would also support this succession, for Sanakht's one(s) were carved much closer to Djoser's than were those of Sekhemkhet (ibid., 78). Also the mixed sealing finds from Bet Khallaf mast. K2 would stress the direct link between Djoser and Sanakht. Therefore it is possible that it was Sanakht to start the Pyramid south of Netjerykhet's complex. Sekhemkhet's funerary complex would be in this case either still unknown, or this king eventually took over his predecessor pyramid complex but without being able to finish or even to add much to the monument he appropriated (possibly for the same reason Sanakht left it uncomplete: the premature death of the sovereign).
[
End of Update
]